Hi friends! I saw this book tag on Wildwood Reads and thought it would be a fun one to do for October. Not sure who the original creator is.
I'm lucky I have young kids who still go trick or treating lol…it's still so much fun but Hawaii is so hot and humid still that after going around the block just once we are sweating and our feet hurt. But it's fun to see all the decorations!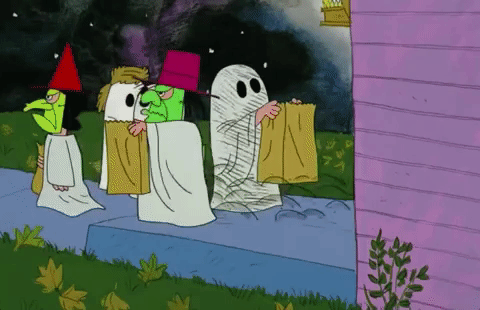 Creepy House on the Corner of the Street: A book with a creepy cover

There is something about black and white photos with the person looking straight at me that I find very creepy. It could be the most simple cover but it's the eyes.
Light's Out (Party Poopers): A book you want to read when you want to escape

Any SJM book is escapism for me!
The House That Gives Out the Cheap Candy: Guilty pleasure book

It's one of those series I wish I could go back and read for the first time all over again. I haven't read it in ages, but I still remember it so clearly. And yes I still want to watch the new series (gonna binge it once it's all out).
The House with the Best Decorations on the Block: Best haunting/Halloween themed cover

The House that Gives Out the Best Candy: #1 Halloween recommendation

I think The Hacienda was pretty creepy, especially the night scenes!
---
Speed Round
Corn Maze or Haunted House?
I don't think I've ever done a corn maze 🤔 so Haunted House
Classic or Unique Costume?

Both!
Sexy or Scary Costume?

Scary
Comedy or Horror Halloween Film?

I was much braver when I was younger lol…so comedy!
Chocolate or Sour Candy?

Chocolate!
---
And that's the tag! Feel free to try this book tag out and thanks for reading!