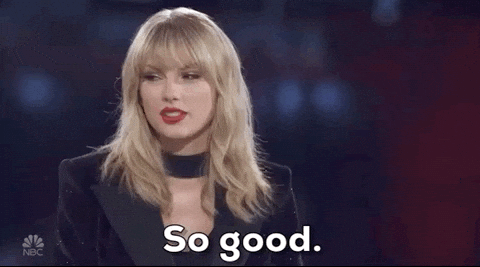 Are you listening to the new Taylor Swift album that just came out? I was curious to see if a blogger out there was fast enough to create a book tag related to the Midnights album and sure enough I found it on Star is All Booked Up! Please check out the link to her blog to see the original book tag and prompts, there is a part 1 and part 2 if you want to try it out. For now this is part 1 because I really gotta think about this lol….let's start:
Lavender Haze- a book you will always love and defend
I will always love and defend this book!
"I'm damned if I do give a damn what people say" – Taylor Swift, Lavender Haze
---
Maroon- a spicy book
Spicy and sweet, just how I like it!
"I feel you, no matter what" – Taylor Swift, Maroon
---
Anti-Hero-unreliable narrator
I think Anti-Hero and think of Violet.
"It's me, hi
I'm the problem, it's me" – Taylor Swift, Anti-Hero
**this is one of my favorite songs on the album**
---
Snow on the Beach- an unexpected surprise
This book was such an unexpected surprise and kinda strange and sweet like snow on the beach.
"You wanting me tonight, feels impossible" – Taylor Swift, Snow on the Beach
**my other favorite song**
---
You're on Your Own Kid- a character that really needs a hug
Lila seriously needed a hug after everything she was going through.
" 'Cause there were pages turned with the bridges burned" – Taylor Swift, You're On Your Own, Kid
**another favorite song**
---
Midnight Rain- star-crossed lovers
I was thinking star-crossed lovers like Romeo and Juliet and thought about These Violent Delights but then thought about Only a Monster because of how Nick was human and Joan learns she's a monster, which makes them very star-crossed.
"He stayed the same
All of me changed
Like Midnight" – Taylor Swift, Midnight Rain
**love this one too!*
---
Question…?- grumpy x sunshine (or neurodivergent rep)
Knox is such a grump! And Naomi rolls with the punches.
"I just may like some explanations" – Taylor Swift, Question…?
---
Vigilante shit- favorite character out for revenge
All Zetian wants is REVENGE.
"Don't get sad, get even" – Taylor Swift, Vigilante Shit
---
Bejeweled- strong character development
Freya really rises above after she is jilted before her wedding! But she goes to everyone else's wedding and keeps on having fun with her friends as best as she can – she really grows from her experience.
"I polish up nice" – Taylor Swift, Bejeweled
---
Labyrinth- second chance romance
The title says it all! Clementine loses her memory and her ex comes back into her life, and she asks him what happened between them so she can't remember. Talk about second chances!
"Lost in the labyrinth of my mind" – Taylor Swift, Labyrinth
---
Karma- favorite full circle moments or parallels
After everything they go through…it's a sweet, full circle ending!
"Ask me what I learned from all those tears" – Taylor Swift, Karma
---
Sweet Nothing- favorite fluffy/cozy read
It's a Christmas story that includes a cat cafe and so many different cats. It's very cozy!
"I find myself running home to your sweet nothings" – Taylor Swift, Sweet Nothings
---
Mastermind- perfect world building and storytelling
I love this story so much, it's perfectly told and I love the world building.
"Checkmate, I couldn't lose" – Taylor Swift, Mastermind
And that's the Midnights album before she release the extra songs hours later lol…so I will be doing part 2 in another post because it took me some time to do this one!
What are your favorite songs from this album? So far my top ones are:
Maroon
Anti-Hero
Snow on the Beach
You're on Your Own Kid
Midnight Rain
I actually love a lot of the extra songs too…but I'll rank let you know which ones in part 2!